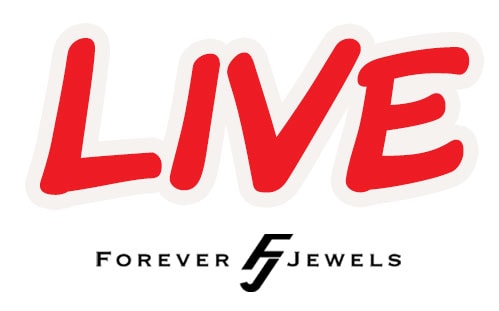 Forever Jewels: "The grand opening of Sharon's e-boutique launch" e-cash Voucher
Terms and Conditions Apply
These terms and conditions shall apply to the Forever Jewels Promotion: "The grand opening of Sharon's e-boutique launch" only.

By participating in this promotion, you agree to be bound by these terms and conditions and the decision of Forever Jewels in relation to this promotion.
Eligibility
The entrant must be 18 years and above and live in the continental US, Europe, Asia, Middle East, and Australia.

The entrant must have a Facebook account (Sign up now at https://en-gb.facebook.com/r.php). Your account must represent an authentic identity of a real person, legitimate and registered entity or business.

A maximum of one entry per individual is permitted.

Forever Jewels has the absolute discretion to determine the eligibility of entrants. Such determination shall be final and conclusive and Forever Jewels is not obliged to give any reason for its determination, in its sole discretion.
How to obtain
7.a. The USD50 e-cash voucher code will be given to you directly from one of our affiliates or shared to you from the affiliate's wide circle of friends and acquaintances.
7.b. The USD100 e-cash voucher code will be given to you exclusively from us if you have met our conditions as shown below:
Invite and share our LIVE show page presence with your friends or acquaintances.

Succeeded in gathering at least 5 of your friends or acquaintances to attend the show.

Capture a screenshot as evidence and notify us via Facebook message or our email at

contactus@foreverjewels.com

.

We will come back to you in 24 hours time with the voucher code.
Voucher
8.a. The USD50 e-cash voucher code redemption is ONLY valid until 14 June 2021.
8.b. The USD100 e-cash voucher code redemption is ONLY valid for 30 days after the date of collection.
You are entitled to redeem ONE voucher code ONLY per transaction.

The above 8.a. and 8.b. e-cash voucher code can be applied to all the products in Forever Jewels online storewide site at

www.foreverjewels.com

and its affiliates official websites, EXCEPT bespoke jewellery services. 

The e-cash voucher CANNOT be used or applied in conjunction with any other offers, promotions, or events.

The e-cash voucher code is a ONE-time use only.

The e-cash voucher code cannot be refunded or exchanged for cash. 

The e-cash voucher code is not replaceable if deleted, lost or stolen. Misuse of the lost/stolen voucher code will be the responsibility of the voucher owner. Forever Jewels Ltd. will not entertain any claims in this respect.

In case of dispute, Forever Jewels Ltd. reserves the right of final decision.
Miscellaneous
The promoter, designer and manufacturer is under Forever Jewels Pte Ltd.

The voucher code may be used as personal or business gifts, but may NOT be used in connection with any marketing, advertising, or other promotional activities unless you obtain Forever Jewels Ltd. prior permission or written approval.

This promotion is in no way sponsored, endorsed or administered by, or associated with Facebook Inc.

To the maximum extent permitted by applicable law, Forever Jewels reserves the right to amend these terms and conditions at any time without prior notice, in its sole discretion

Copyright: The Grand Opening of Sharon's E-Boutique: voucher codes and all accompanying materials are copyright protected by Forever Jewels Pte Ltd. All rights reserved.